Axion Esti - Concerts in Greece - Summer and autumn 2019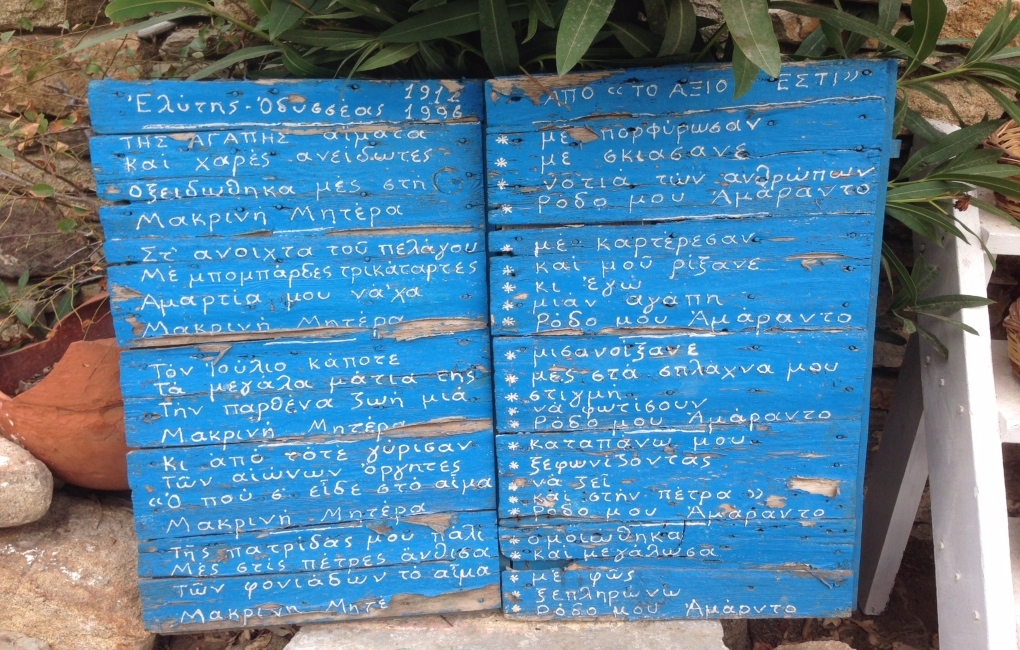 The popular emblematic oratorio, a monument of the contemporary Greek art, "Axion Esti", with poetry by Odysseas Elytis and music by Mikis Theodorakis, was presented in five concerts which took place during summer and autumn 2019 in Greece with the participation of important artists and musicians. 
The first concert of the summer was realised at the Roman Odeon of the Ancient Nicopolis on June 23rd 2019. The distinguished singer Dimitris Bassis accompagnied by the symphony and folk orchestra of the city of Preveza conducted by Theodore Lebesis, together with the multi awarded choir Armonia, gave the people of the city of Preveza a top moment of culture and art. 
Then, on August 3rd 2019, at the Lavrion Technological and Cultural Park, the Lavrion Choir for its summer concert and in celebration of its 80th anniversary (1939-2019), in collaboration with the Lavrotiki Municipality presented the work with the participation of the famous singer Kostas Makedonas and the symphony folk orchestra of Lavrion, which was again conducted by Theodoros Lembesis.
The baton was received by the Mixed Choir Erkyna of Livadia, which presented the work at the Open Theatre of Crya on August 26th 2019, in a moving atmosphere. The singer Pantelis Thalassinos, the Camerata Symphony Orchestra Erkyna, the Erkyna Folk Orchestra and the Mixed Choir Erkyna participated in this magnificent event which was presented by Dimitris Theodorou. The musicians were conducted by T. Kabakchiev. The event took place in the frame of the 2019 Trophonia.
The next performance took place in Macedonia, in particular on September 1st 2019 by the Municipality of Pylea - Chortiatis, in the frame of the Commemoration Events for the 149 tragic victims of the Chortiatis Holocaust on September 2, 1944. In the courtyard of the Stone Gymnasium of Chortiatis, the singer Manolis Chatzimanolis performed the lyrics, the texts were narrated by Aphrodite Ioannidou,  the municipal choirs "Panorama" and "Thamyris" of the municipality of Pylea-Chortiatis, "New Choir" of the municipality of Kalamaria and "Thermaides" of the municipality of Thermi participated. The musicians were conducted by Viktoras Glykides.
The Panhellenic tribute to AXION ESTI work was completed by the Symphony Orchestra of the Municipality of Thessaloniki at the Ancient Theatre of Philippon in the city of Kavala on September 21st 2019. The SO was invited by the Holy Metropolis of Philippon, Neapolis and Thassou to collaborate with the Youth Choir "Agios Ioannis Chryssostomos" for the presentation of the work. The chief musician  Konstantinos Diminakis conducted the orchestra while Chrysostomos Stamoulis prepared the choir. Giannis Kotsiras and Andreas Zenios appeared as soloists, while Vasilis Spyropoulos was the narrator of the texts.
We look forward to many future performances of AXION ESTI, the landmark work through which our great composer Mikis Theodorakis reconnects us with sounds, melodies, emotions, events and visions that form an integral part of the historic and aesthetic identity of greek people.
Music Community Area
Recent posts